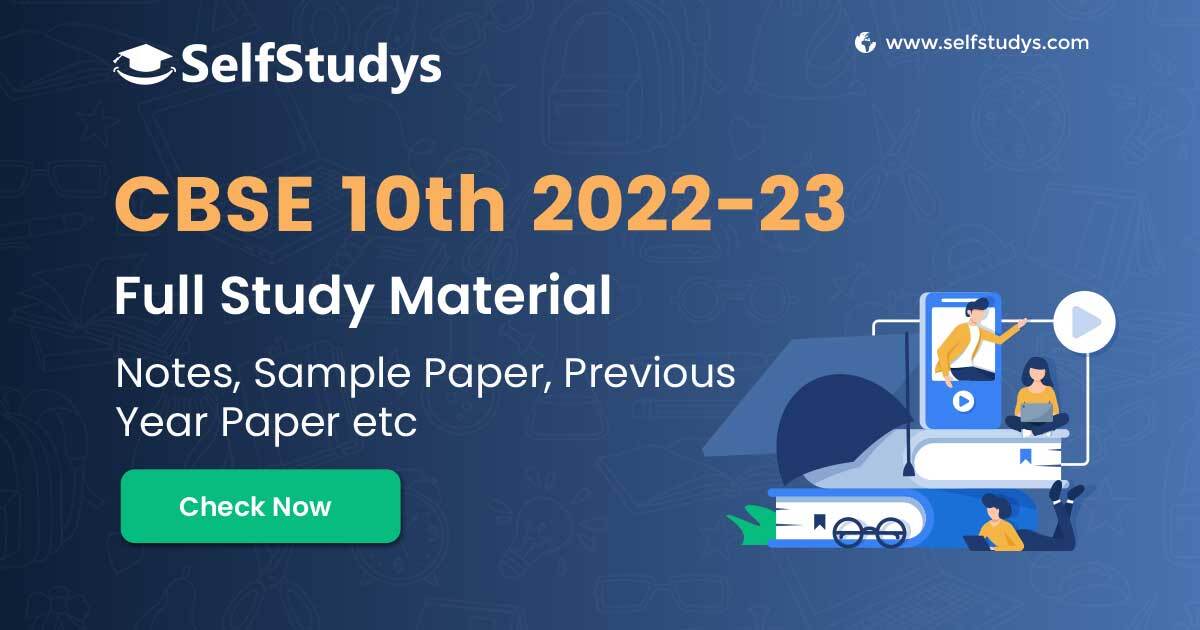 CBSE Class 10 Study Material For All Subject Wise For Free (2022-23)
Overview: CBSE Class 10th Study Materials
CBSE Class 10th is one of the most important classes where students are required to give special attention to their studies. Students after class 10th get clarity on what actually their desires and goals are in life to achieve through study. Because class 10th is so important, students are required to have the best study material that can allow them to get access to all the study resources at the same place.
Therefore we have prepared this page where you will be able to download almost all types of NCERT Study materials which include Syllabus, textbooks, solutions, revision notes, etc for class 10th.
In the below-given table, we have provided the Table of content which will help you to easily find things on this website.
CBSE Class 10th Syllabus 2022-23 All Subjects
CBSE Class 10th Syllabus has been updated this year for the ongoing academic session 2022-23. As per the new announcement made by the CBSE authorities this year the CBSE Board Exam will be conducted Annual exam. Therefore, the Class 10th syllabus has been updated in accordance with the new changes. Therefore, we have provided the download links of the syllabus subject wise. CBSE Syllabus can be easily accessed in PDF Format. Consider looking at them if you want to know about the latest changes in the syllabus.
Online Mock Test Series for CBSE Class 10
CBSE Class 10 NCERT MCQs Test for all subjects enables the candidates to check whether their board exam preparation is on point or not. It is available in Online mode where they can attempt the tests in a given time frame and check their scores instantly.
The MCQ Online Test for Class 10 is prepared by the subject matter experts. Hence, candidates will be able to practice Maths, Science, Social Science, etc. The given timer will help in the evaluation of time management and accuracy.
It can also be accessed on Selfstudys App.
Meanwhile, practicing the Free MCQs Test For CBSE Class 10 will aid in grasping the concepts and fundamental knowledge very rapidly. Furthermore, the online test series of class 10th will remove the fear of board exams and they can do a self-assessment to predict their performances in upcoming board examinations.
Hence, students willing to give this test a try can visit the links given in the table below. It is absolutely free of cost.
NCERT Books for Class 10th CBSE Board Students
NCERT Books for Class 10th is going to be beneficial for the students of CBSE Board. Because the board has prescribed the NCERT Textbooks to class 10th students. These Books are prepared by the higher authorities of National Council of Educational Research and Training (NCERT). It contains the highest quality of well researched content, which enables students to learn in an easy manner with simple language. The textbooks are available for all the subjects including Maths, Science, Social Science, Languages, etc. Below given table contains all those Subject wise and Chapter wise NCERT textbooks.
NCERT Solutions for Class 10th in PDF
NCERT Solutions for Class 10th in PDF will enable you to get the instant solutions of all the questions available in NCERT Textbooks. In the Board exams questions are asked from the end-chapter of questions with some changes in it. Therefore, If you want to score good marks in the CBSE Class 10th board exams, then consider using the NCERT Solutions. It will help you to be familiar with all the steps, shortcuts, and methods to solve any NCERT Textbooks questions. The below given table consists of all subjects NCERT Solutions. It's free of cost.
CBSE Class 10th Revision Notes of NCERT
One of the challenging things is to retain whatever students study. Therefore, in that case students rely on the Revision notes because it enables them to keep reversing their learnings. Using CBSE Class 10th NCERT Revision Notes gives students the facility to stay updated with all the topics and concepts they have studied earlier. It is very helpful when exam dates are close. Students can revise their entire syllabus in a short span of time by using the NCERT Revision notes. Links are given in the below table.
NCERT Exemplar Books for Class 10th
Have you ever thought of using the NCERT Exemplar Books for Class 10th? If not then you should think of it. NCERT Exemplar is one of the most underrated study materials which most students avoid but it has enormous benefits. It gives students the ability to enhance their understanding in the subjects, gain advance knowledge, etc. Therefore, you should refer to the NCERT Exemplar Books for Class 10. A few students who use the NCERT Class 10th maths Exemplar books have seen enormous improvements in their knowledge of maths due to the NCERT Exemplar. Hence we have given the download links in below given tables. It will help you too. So, Download Now
NCERT Exemplar Solutions for class 10th
NCERT Exemplar has quite advanced topics which students will have to deal with. Hence, NCERT Exemplar Solutions for class 10th can be a handy tool. It will enable you to understand all those advanced and critical questions available in the exemplar books. Along with getting solutions to the questions, it gives the ability to improve critical thinking and deep understanding in the approaches that should be taken to solve any kind of Solutions. We have mentioned the complete set of NCERT Exemplar Solutions for class 10 below. It's free of cost.
CBSE Class 10th Hots Questions
Have you ever thought about how some students are very creative and smart? If You don't know then let us tell you about it a bit. A brain is all about muscle memory training. As much as you do you get better at it. As A Result, you will be more smart. That is why the CBSE Board has introduced the CBSE Class 10th Hots Questions. It allows students to practice questions which don't have any fixed answers. You will have to give your answer in your own words and from your own thinking. HOTS (High Order Thinking Questions) primarily included in the CBSE Class 10th syllabus to make students more creative thinker and smarter. If you want to get good grades then refer to the below given table. It contains the HOTS questions.
CBSE Class 10th Previous Year Question Papers
One of the easiest ways to solve the actual class 10th board questions are by solving the CBSE Class 10th Previous Year Question Papers. CBSE Previous Year Questions helps students to understand the exam pattern, weightage of chapters and topics, etc. Knowing about all those things enables students to make a great preparation strategy to tackle all the questions in their board exams with ease.
The Previous year Papers are the quickest way to evaluate yourself as well. Below we have added the CBSE Class 10 Previous Year Question Papers also known as CBSE PYP.
CBSE Class 10th Sample Papers & Marking Scheme Subject Wise (Term 1 & Term 2)
CBSE Class 10th Sample Papers along with marking scheme for term 1 & Term 2 exam 2021-22 has been released by CBSE Board. By referring to CBSE class 10 sample paper 2021-22 term 1 & Term 2 candidates will be able to get an idea about the exam pattern, marks distributions, time frame, maximum marks, etc.
Hence, for your help we have updated this page and brought the CBSE latest sample papers for class 10th. In CBSE Class 10 sample papers there are on average 50 to 55 questions. Solving these sets of questions, students will be confident and ready to give the final exam.
CBSE Class 10 Sample Papers & Marking Scheme Term 2
CBSE Class 10 Sample Papers & Marking Scheme Term 1
According to the given instructions in the term 1 sample papers, there are 3 sections namely, A, B, and C. Section A & B carries 20 questions respectively. Students have to solve only 16 questions from each section. Apart from that, section C has 10 questions based on case studies. Candidates need to solve 8 questions out of those 10 problems.
Each question carries the same mark, that is 1 mark. As per the CBSE Class 10 Marking Scheme Term 1 there is no negative marking.
You can download CBSE Class 10 Latest Sample Papers from below given table. It's free and this is the best time to start the preparation for the term 1 exam, because the CBSE Board 10th exam will be conducted in November-December 2022.
CBSE Class 10th Sample Papers are made to give the students an idea of upcoming board question papers. Sample Papers gives the students the ability to gain confidence and prepare for the board exams. At the same time the sample papers are very helpful to know about the most frequent questions. We have provided the CBSE Class 10 Sample paper in the below table. Feel free to download because it is completely free of cost.
CBSE Class 10 Marking Wise Questions
While preparing for the board exams such as CBSE Class 10th having a proper knowledge of the weightage of every individual question becomes essential. By Practicing and revising the CBSE Class 10 Marking Wise Questions Will help students to know about the different types of marks distributions among the questions. It will also be very useful to know about the word length to write the answer in the exam for each question.
CBSE Class 10th MCQs PDFs
As per the latest improvements in the CBSE Class 10th syllabus. From this year students will have to give two board exams. CBSE Term 1 exam will only consist of MCQs questions which will be conducted for 90 minutes. Scoring marks in the MCQs questions is easy. Because you will have the options to choose the right answer from the 4 different options. Hence, good practice is required for doing this. For your convenience we have given the CBSE MCQs PDF in the below-given table. Download MCQs PDF For Class 10
CBSE Class 10 Lab Manual Download PDF
CBSE Class 10 Lab Manual is an interesting way to perform and understand the real life implications to all the subjects that are prescribed to the class 10th students. It is an innovative step that has been taken by the CBSE Board itself. It is so because it allows to do the activities based on the CBSE Class 10 Lab Manual. CBSE Class 10 Maths Lab activities contain 12 marks and in such situations candidates need to perform well in the internal assessment to acquire this much marks.
Therefore to help them we have provided the free lab manual class 10 maths along with other subjects too. All of these things can be accessed by them from the given table below.
CBSE Class 10 Value Based Question
CBSE Class 10 Value Based Question is based upon the key and messages that specific subjects and chapters reflect. In the CBSE Board these types of questions were introduced in the 2012-13 academic session. Students practicing these types of problems become able to enhance their thinking capability, empathy and self awareness skills.
Generally this is asked for about 3 to 4 marks in the board exams. But even after having such low weightage it impacts the life of students in a different manner. Theri real world problem solving skills and self awareness started unlocking. So, it is highly advisable to the learners to practice Value Based Questions for class 10 rigorously. To access these links are given in the below table.
CBSE Class 10th Study Material - (FAQs)
FAQs
Need answers? Find them here...
To Study CBSE Class 10th Study Materials simply use the available resources given in the Study Materials. For Effective study you can make a plan and set a goal.
Study Materials For CBSE Class 10th are NCERT Books, Solutions, Revision Notes, Sample Papers, Class 10th Previous Year Papers, etc. You can download the CBSE 10th Class Study Materials on Selfstudys.com
The online study material for class 10th is the collection of All Study resources given in the PDF Format. It can be downloaded for self studys.
You should use the Study Materials for class 10th to prepare for the board exams and score 100% marks.
To download Best Study Materials for Class 10th simply visit Selfstudys.com. It has a complete set of study materials based on the latest Syllabus of CBSE.
The best CBSE Study Material for class 10 is provided by the selfstudys.com for free of cost Visit Here to Download.